THE CAPUCHIN FRIARY
In the 19th century, characterized by a strong asceticism, the foundation of the capuchin friary and of votivechapels took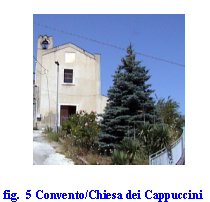 place even in Mirto.
Since those who wanted to devote their selves to monastic life, were forced to move in S. Marco d'Alunzio, where there was a Franciscan monastery, the community of Mirto felt the need to erect a new capuchin friary to host the religious ardour that dominated that period.
The foundation of the Friary is due to Brother Alfa Macho a well-deserving religious man, our fellow-citizen, from the Franciscan order, who in the Lenten Sermons engaged him self in the construction of it. Indeed, on the 30th of May 1844 rev. Macho blessed the Capuchin Church and the monks installed there on the 4th of December 1844.
The friary gained prestige in the time by virtue of the work of the learned friars, and among them Brother Antonio da Mirto (in the world Ricevuto), who had the great merit to establish a library of inestimable value, furnishing it of rare and precious books. But, after the suppression of the capuchin friary following a national law of 1867, the general negligence and indifference caused the loss of such a precious estate. But the monastery still survives witnessing its past.
In the crypt, beside the Franciscan church, you can see the niches of the "morti o culaturi", where, once, there were the standing bodies of the died monks. Their mortal remains are today in the ossuary inside the monastery.